The Importance of
ANNA's
Design
The 1860's decade saw a major expansion of locomotive-worked narrow gauge railway networks both at home and abroad but in the field of locomotive design for railways of 2ft. 6in. (760 mm) and under, locomotive design was far from settled. The 18 inch gauge lines in use at Crewe works had seen the introduction of a design of four-wheeled locomotive with inside cylinders and a cylindrical firebox that was destined to have but a few direct descendants elsewhere, whilst the Festiniog and Festiniog & Blaenau Railways, both nominal 2ft. gauge, again employed locomotives with mainframes placed between the wheels and which, owing to their firebox dimensions, were not continuous throughout the full length of the locomotive. At the end of the decade, the Festiniog made another leap forward with the first of its articulated 'Fairlies' Little Wonder but this was yet another specialised design only suitable for applications that demanded an articulated locomotive. The simple mechanical solution to the problem of providing a true locomotive type firebox with continuous frames on such a small gauge was to place the mainframes outside the wheels but by 1869 there had only been one well-known builder who had publicised such designs in the domestic professional media. This was Isaac Watt Boulton of Ashton-Under-Lyne who had constructed at least two such locomotives in the early part of the decade, but these had yet another peculiarity in that they were geared, a complication that was unlikely to appeal to the mass market.
At this stage of the discussion, it should be noted that in order for full advantage to be taken of the room provided by the use of outside frames, the firebox width should not be constrained by the locomotive's wheelset 'back-to-back' dimension. Translated into layman's terms for a simple 0-4-0 tank locomotive this means that from a side elevation point of view, the arc if the rear coupled wheels should not foul the firebox. The Boulton locomotives actually passed this test but two designs used in India further illustrate this point well. In 1863 the first narrow gauge locomotive design used in that country appeared in the form of three identical 0-4-0STs of 2ft. 6in. gauge with 8in. by 16in. cylinders constructed for the Gaekwar's Baroda State Railway by Neilson & Co. of Glasgow as works numbers 979-81. Examination of the surviving General Arrangement Drawing of this class in the NRM at York shows that it did indeed have continuous outside frames but that its firebox was constrained by the rear pair of wheels. Taking into account this fact and the fact that the Baroda class apparently received no publicity in either The Engineer or Engineering at the time of its appearance, it cannot reasonably be considered to have had any significant lasting influence upon the story of narrow gauge locomotive development generally. The second design to graphically illustrate the 'wheelbase-to-firebox' relationship concerned a firm which was destined to have a much greater impact upon our story. In 1870, Hunslet Engine Co. built four 5ft. 6in. gauge 0-4-0STs with 10in. by 15in. cylinders for construction work on the Oudh & Rohilkand Railway as works numbers 46-49. When built they constituted (apart from being wider than British standard gauge) a fairly conventional Leeds-pattern inside framed industrial class of the period but in 1902-3 three of them were converted to 2ft 6in. gauge outside framed specimens by the Bengal-Nagpur Railway, producing a group of locomotives of a type to be covered by later parts of this discussion. In addition to the provision of new wheelsets and other parts, the significant point to note is that the conversion necessitated the moving of the boiler and firebox rearwards to clear the new rear wheelset allied to the fitting of a new (longer) smokebox. As events turned out, one of these locomotives was still extant as late as 1966 but sadly slipped through the preservation net – a tragic loss!
The city of Leeds was emerging at this time as a major player in the production of industrial and narrow gauge locomotives, particularly in the shape of two concerns connected by family ties, namely Manning Wardle & Co. Ltd and the aforementioned Hunslet Engine Co.. Of the two, Manning Wardle were the older and initially the more dominant, having tendered unsuccessfully for construction of the Festiniog Railway's first batch of locomotives and later successfully for those of the Festiniog & Blaenau. Hunslet's early locomotives showed recognisable Manning Wardle influence and it was the newer concern that was to break into the market for simple outside framed sub-2ft. 6in. gauge locomotives in 1870 with 1ft. 10 ¾ in. gauge Dinorwic (works number 51) for the Llanberis-based slate quarrying company owned by the Asheton-Smith family (Picture 1).
<![if !vml]>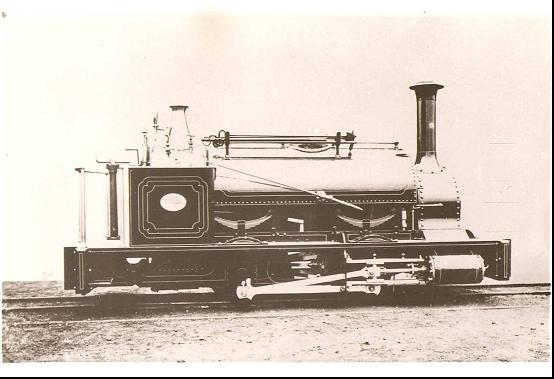 <![endif]>
Picture 1
Although this locomotive and a duplicate supplied seven years later achieved respectable working lives, their rather clumsy design and 4ft. 3in. coupled wheelbase were not suited to many industrial applications and it did not achieve the distinction of large scale series production. In the following year the Royal Arsenal, which was in the process of adopting the 18 inch gauge used at Crewe Works, purchased Lord Raglan (works number 353) from Manning Wardle and this locomotive is illustrated in Picture 2.
<![if !vml]>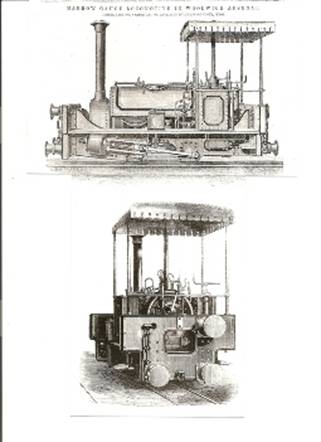 <![endif]>
Picture 2
Its leading dimensions were: Wheels 6in. bore and 8 in. stroke; wheels 1ft. 8 in. diameter; wheelbase 3ft. 3in.; weight approximately six tons. When new, the locomotive was fitted with rather ungainly bufferbeams capable of handling standard gauge wagons as the discrete 18 inch gauge 'plateway' track had yet to be laid, but as this expanded and more locomotives arrived, the standard 'Woolwich' variant evolved with chamfered mainframes, bevel geared handbrake (attached to firebox wrapper), narrower running boards and 'composite' buffers. This is illustrated in Picture 3 by works numbers 613 of 1876 and 1130 of 1889, the latter the last of the 13-strong 'Woolwich' contingent to be supplied.
<![if !vml]>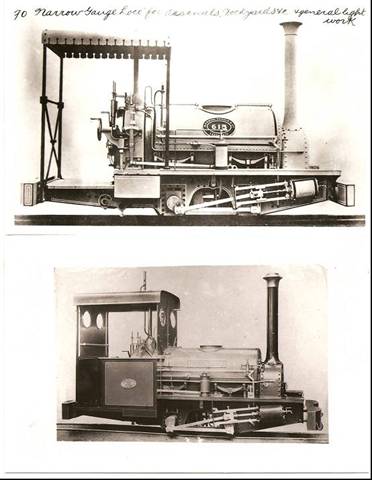 <![endif]>
Picture 3
Chatham Dockyard installed another 18 inch gauge system and again in 1871 purchased Trafalgar (works number 386) from Manning Wardle. This locomotive was generally similar to Lord Raglan, possessing the latter's relatively long front and rear overhangs, wide running boards and (probably) standard gauge-pattern bufferbeam, but this would not have been extended upwards to handle standard gauge wagons. Within one year, the basic design had been refined by reducing overhangs and footplate width (the latter measure was to allow two locomotives to pass one another) and by simplifying the bufferbeam design, although at this stage standard gauge pattern buffers were retained (Picture 4).
<![if !vml]>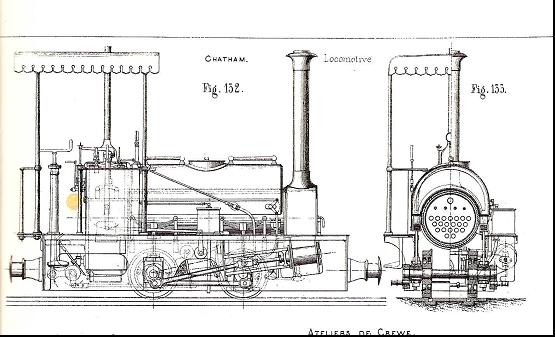 <![endif]>
Picture 4
Although only the last two of the Dockyard's six members of the basic specification would have been identical as supplied, common features of the last four at least would have been rectangular mainframes with rear 'drop', Lord Raglan-pattern handbrake; simple plate bufferbeams, and composite buffer. One of the final pair is illustrated in Picture 5.
<![if !vml]>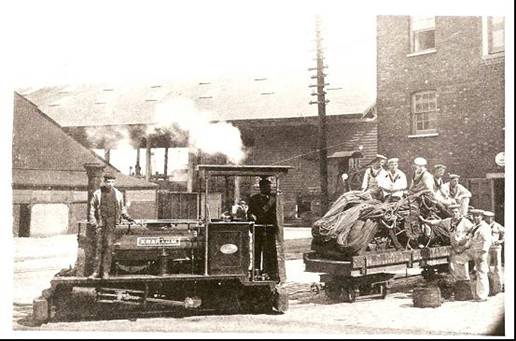 <![endif]>
Picture 5
Whilst one further 18 inch class member (similar to 424 of 1872 Busy Bee for the Dockyard as illustrated in Picture 4) was supplied to the School of Military Engineering at Chattenden in 1873, four wider gauge examples (designated the 'Locke' class)  were constructed between 1874 and 1878, the first two for home use (Pictures 6 and 7) and the later two for India.
<![if !vml]>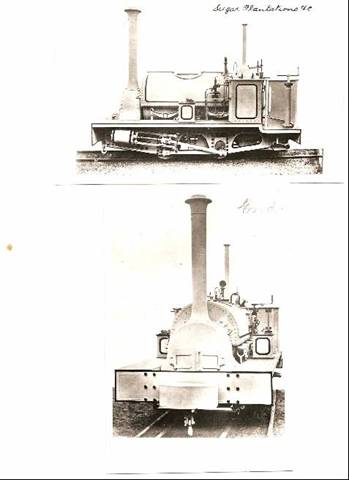 <![endif]>
Picture 6
<![if !vml]>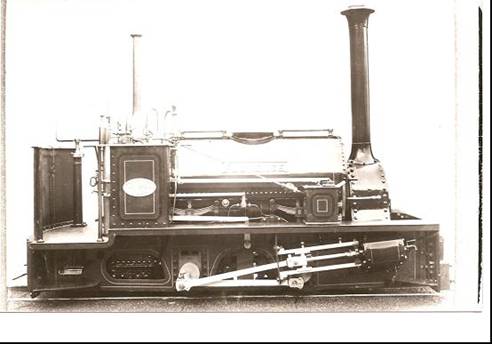 <![endif]>
Picture 7
There was also one 18 inch gauge example for Russia in 1875, whilst three further specimens of the same gauge went to Argentina between 1890 and 1924. The intermediate example, works number 1818 of 1913 is illustrated in Picture 8.
<![if !vml]>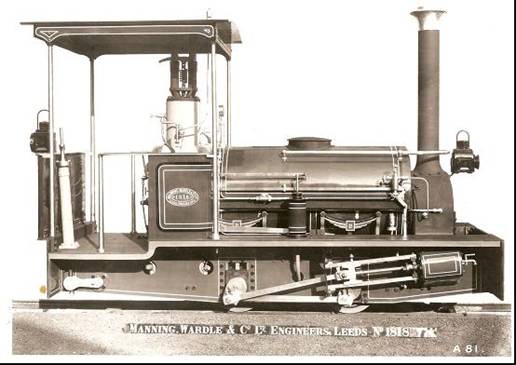 <![endif]>
Picture 8
As a result of the introduction of a basic locomotive specification that was built over 53 years, the simple outside framed narrow gauge locomotive was now firmly 'on the map' as a commercially viable product. The most immediately apparent development (from 1879 onwards) was the mainstream 'Quarry Hunslet' locomotive group, but many celebrated narrow gauge locomotive designs at home and abroad owed their existence to the appearance of Lord Raglan and Busy Bee in The Engineer, Engineering and the Vignes Etude of the 1870s. These include Hunslet 0-6-4ST Beddegelert and 2-6-2T Russell;  the Manning Wardle 2-6-2Ts for the Lynton & Barnstaple Railway and 2-6-4Ts for South Africa; the Vale of Rheidol Railway 2-6-2Ts; the 2-6-4Ts for the Leek & Manifold Light Railway (and related designs for India's Barsi Light Railway); tank locomotives of both 0-4-0 and 0-4-2 configurations by several builders used an the Royal Arsenal; enlarged 0-4-0STs at Chatham Dockyard, the Kerr, Stuart 0-4-2STs and 0-6-2T used on the Sittingbourne & Kemsley Railway (and their classmates for export), and various designs used on the Chattenden & Upnor Railway, all to name but a few! A selection of 'descendant' locomotive designs are illustrated in Pictures 9-15 and these include not only British-built examples for home use, but also examples for export, an Australian-built specimen and two German-built representatives fitted with sleeved axle articulation.
<![if !vml]>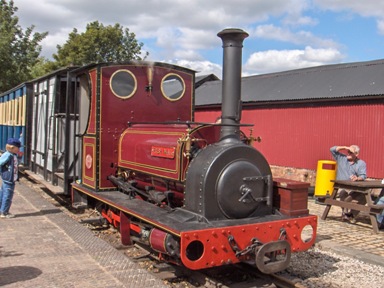 <![endif]>
Picture 9 ('Irish Mail')
<![if !vml]>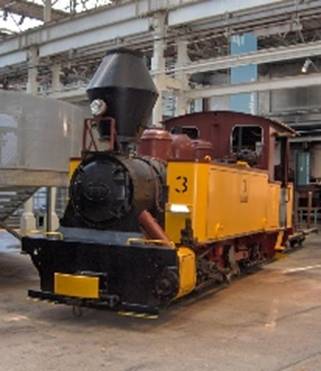 <![endif]>
Picture 10 (2ft gauge Perry 0-6-2T 'Flash')
<![if !vml]>
<![endif]>
Picture 11 (Chattenden & Upnor Railway 0-6-2T 'Chevalier')
<![if !vml]>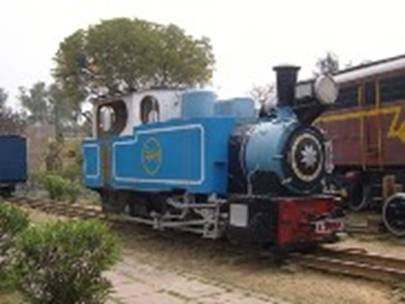 <![endif]>
Picture 12 (Matheran Railway 0-6-0T No 739)
<![if !vml]>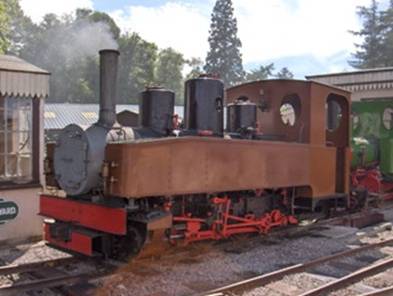 <![endif]>
Picture 13 (Durley Light Railway 0-8-0T)
<![if !vml]>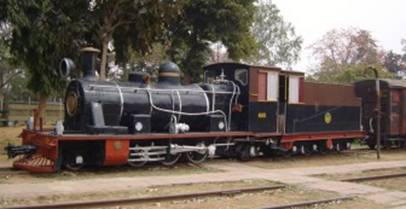 <![endif]>
Picture 14 (Bengal Nagpur Loco No 688)
<![if !vml]>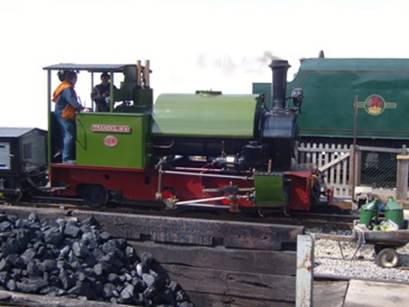 <![endif]>
Picture 15 (Hunslet Engine Co Ltd No 3902)
Anna is closely based on the second of the Chatham Dockyard locomotives, Busy Bee, but the mainframe shape has been modified on the lines of Lord Raglan to facilitate loading onto and off the running track. The gauge of 7 ¼ in. also scales at slightly more than the prototype, approximating to a full size (at 3/8 scale) of just over 19 inches.
For further discussion of the relevant phase in narrow gauge locomotive evolution generally, see M. Smithers An Illustrated History of 18 Inch Gauge Steam Railways (Haynes/OPC 1993).
An Unexpected Spin Off To Anna's Design
The sphere of 18 inch gauge railways, which Manning Wardle did so much to advance in the few years following 1871 was to grant the Leeds company an unforeseen place in history a quarter of a century later. The Royal Arsenal had seen experimentation in the early 1880s with compressed air as a safer alternative to steam motive power in an explosives environment. On its standard gauge network, a locomotive using this mode of power and supplied by Manning Wardle in 1880 (Maker's Number 761) saw service in 1880-1 although it is likely that its reservoir and possibly its two triple expansion three cylinder engines were supplied by another maker. The late nineteenth century also saw experimentation with the internal combustion oil engine as a source of stationary and motive power and some of the most successful outcomes of this work were the patents of Yorkshireman Herbert Ackroyd Stuart (1864-1927) which resulted in a pioneering heavy oil compression ignition four stroke oil engine that anticipated the later work of Dr. Rudolf Diesel (1858-1913). The manufacturing rights to this engine were bought out in 1891 by the Grantham concern Richard Hornsby & Sons (later to become part of Ruston Hornsby & Co. Ltd) who produced progressively improved variants of the engine in large numbers and sought previously untried applications for it. The year 1896 saw a 20HP variant employed in a road tractor, at least two examples of which survive today, whilst the 23rd July of that year saw delivery of a 9 ½ HP 18 inch gauge railway locomotive to the Royal Arsenal. The single cylinder 'hot bulb' engine was 11 in. bore by 15 in. stroke whilst the transmission incorporated a bevel gear reverse train (actuated by a dog clutch), two speed spur gearing and a final jackshaft drive onto a chassis which, apart from its inclined horncheeks (in order to relieve suspension stress on the jackshaft rod), owed much to contemporary 18 inch gauge steam locomotive practice.
The design of the chassis posed one essential question, namely did Hornsbys, who had no experience of producing railway locomotives  at this stage, build it 'in house' or did they turn to a more experienced maker to supply it and merely fit their own engine and transmission gearing assembly? In order to answer this question, three further illustrations and a crucial piece of recently discovered documentary evidence are necessary. Firstly, it is necessary to closely examine the works photograph of the locomotive (Hornsby 1705 of 1896) and its counterpart engraving for the professional journals of the period, respectively Pictures 16 and 17.
<![if !vml]>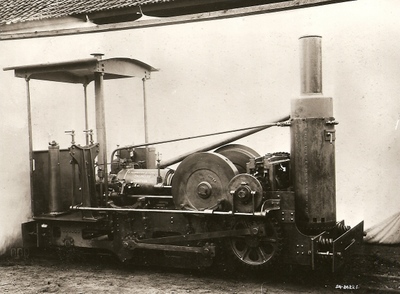 <![endif]>
Picture 16 (R. Hornsby No 1705 of 1896 Works Photograph)
<![if !vml]>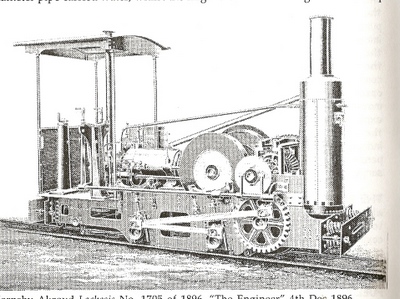 <![endif]>
Picture 17 (R. Hornsby No. 1705 of 1896 Engraving)
The design of canopy is noteworthy, being very similar to the one used on the three 18 inch gauge Manning Wardles of 1890-1924 for Argentina (Picture 8) and the two of 1899 for Chatham Dockyard (picture 5). One should also take a close look and the design of the coupling and transmission rods and the overall shape of the mainframe. These should be compared with the makers photograph of 2ft. 6in. gauge Manning Wardle 0-4-0T No. 1615 of 1903 (Picture 18) whilst making allowance for the inclined horncheeks on the Hornsby locomotive.
<![if !vml]>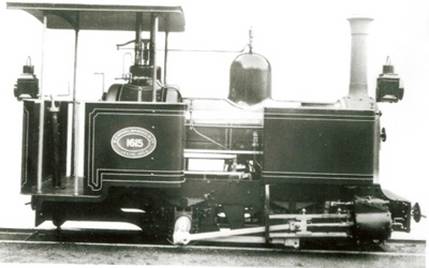 <![endif]>
Picture 18 (2ft. 6in. gauge Manning Wardle 0-4-0T No.1615 of 1903 based on No.1322 of 1896)
All of the obvious similarities, together with the fact that the coupled wheel diameter on the Hornsby was the same (1ft. 8 in.) as for the 1871 18 inch gauge Manning Wardle, and the fact that No. 1615's eldest sister 1322 dated from the same year as the Hornsby led only to one conclusion, namely that Manning Wardle supplied a 'rolling chassis' complete with canopy to Hornsby in 1896 for use on the new locomotive. Until recently, there was no documentary evidence to back this assertion up as the relevant Manning Wardle records do not survive, but a recent project to conserve the surviving Hornsby records has supplied the missing piece of the jigsaw. Drawing No. 14453a, which covers the wheels, axles, springs, coupling and transmission rods is clearly marked with the legend 'These details were bought from Messrs. Manning Wardle & Co.'. It therefore seems certain that the work of Manning Wardle in the 1870s that resulted in the mainstream narrow gauge steam locomotive becoming a commercially viable proposition also had one unforeseen spin-off, namely the world's first commercially viable internal combustion locomotive. This achievement should now be universally recognised by railway historians everywhere. In the event, four further locomotives working on the same principle were supplied by Hornsbys to the Arsenal at Woolwich between 1900 and 1904, whilst the pioneering engine and two others survived to be sold to a Darlington dealer in 1919. In the event, Hornsby No. 1705 was last heard of at the same location ten years later but rumours persist that it survives somewhere in North Wales!